Crafuel Alto 600W Portable Power Station
Sale price
£299
Regular price
£549
Safety Protection Is The Priority  There are 6 safety protection for your battery, including overload, low voltage, over temperature, low temperature, short circuit and over current. The BMS of Alto 600 gives you better performance and longer life cycle, monitoring and protecting your device from every potential risk.
13 Outlets Enrich your lifestyle  Agile charging capability suit a wide range of charing demands. No necessity to be worried about with your family or friends for vying a quick charge while your devices are out of power. Alto 600 has enough ports for a simultaneous charging, classic AC and DC output, 100W Type-C, car socket, even wireless charger. Everyone will be taken good care of, regardless you're indoors or outdoors.
Empower The Battery With Sustainable Energy  With Crafuel 200W solar panels, you can supercharge your next RV trip or outdoor adventure while fully utilizing the sustainable energy. Whether you're charging your laptop or brewing your morning coffee, a solar package with Crafuel 60W solar panel will keep you going.
Crafuel Alto 600W Portable Power Station
Sale price
£299
Regular price
£549
For the most demanding jobs
The Crafuel Alto 600 can power all devices from smartphones to air conditioners for a long time. At home, outdoors, or at work, you can trust the Alto 600 to keep you powered no matter what.
Power Everything
The Alto 600 with its 600W output can power energy-hungry devices such as hair dryers, welding equipment, or even an electric car.
Wherever you need it
Despite its power and size, Alto 600 is easy to transport. Take it with you wherever you need it.
Any device
With a total of 14 outlets of various types, the Alto 600 can charge just about any device you need.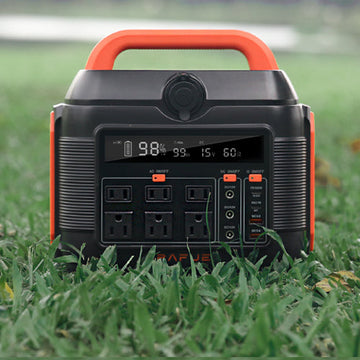 Power All Loads For The Road
14 output ports are sure to meet your needs for charging different devices simultaneously. A 15-watt wireless charging pad at the top greatly facilitates the charging of cellphone. From mini-refrigerators to LED lights, it is a great storage option for camping and emergency use.
A new world without limits